Post by bob on Sept 29, 2009 2:08:09 GMT -5
Stellars Sea Eagle
...length 85-105cm
...wing 220-245cm, 221-244cm
...weight 6.8-9kg
World's Biggest Eagle, one of two eagles that rivals the harpy eagle in weight...but, like other fish eagles, the talons and feet r weaker and smaller than booted eagles, such as the golden eagle
Australian Wedge-Tailed Eagle
once believed to posses the longest wingspan of all eagles, current data suggest about the same wingspan as other large eagles, length mainly due to long diamond-shaped tail, surprisngly lightweight for its size, very lanky...one of the longest wingspans, avg 2.3m in the past, records of up to 2.79, 2.84cm, even 3.35m
Berkut Golden Eagle
avg 6.5kg, record 12kg+
76-102cm (NA subspecies)
wing 2.1m, record 2.8m, 203-224cm (NA SUBSPECIES)
one of the heaviest eagles, record up to 12kg wild specimen (unlike harpy's record captive)...also longest recorded wingspan at up to 2.8m
Bald Eagle
79-94cm
wing 178-229cm
avg 5.2kg, up to 6.3kg
very large eagle, wingspan somehow not as impressive, while weaker talons compared to golden eagles
Harpy Eagle
89-102cm
wing approx 2m
7.2-7.7kg, up to 9kg
World's most powerful eagle
Philippine Eagle
90-100cm
approx 2m wing
weight NO RELIABLE DATA, probably max 8kg
Often clamied as the largest eagle but the bulk of its "size" (like the wedge-tailed eagle) actually derived from its long legs, giving a false impression of great size...the talons and claws r not the most powerful, but the beak is 2nd only to the stellars sea eagle among the eagles...
Crowned Eagle with Ververt Monkey prey
Hugh Chittenden
African Crowned Eagle
81-90cm
wing NO DATA
Africa's most powerful eagle, however it is very lightweight...avg only 4kg+ for females...probably the 3rd most powerful eagle
White -tailed sea eagle
bulky stout eagle..
70-92cm, 66-89cm
wing up to 2.4m, 2-2.45m, 183-239cm
weight avg 5.5kg. 5.1kg, up to 7.5kg, range 3.1-7kg, 3.6-6.5kg
African Martial Eagle
76-83cm
wing 2.1m
avg 5.1kg, up to 6.2kg
Africa's largest eagle, however not as large as other eagles above...very powerful and attacks big prey for its size...the talons and legs r slim and long, a specialization for hunting birds, which r its main prey..rather short tail, like the eurasian sea eagle...used to be classified in a genus of its own (polemaetus) but changed to Hieeratus (hawk-eagles), and recently some scientist placed it with the Aquila (booted eagles)...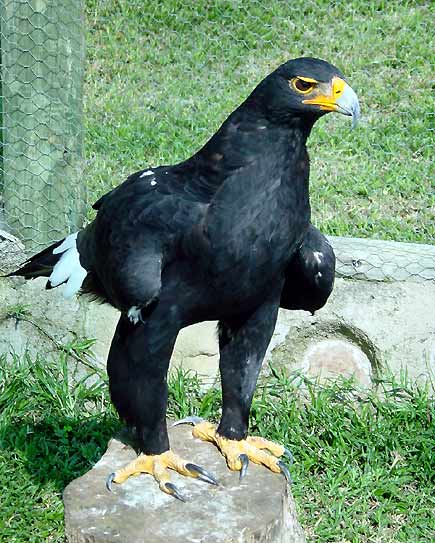 Verreaux's Eagle
a very striking jet-black eagle, not as big as most big eagles
72-90cm
wing 2.1m
weight avg 5kg, up to 5.8kg